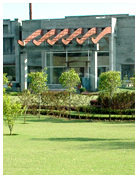 1. HOML plans to open Joint Venture Manufacturing Units in Italy & Turkey
HOML along with its Italian collaborator Net Society, Roma, has already opened Narrow Web Hologram manufacturing unit in Roma, Italy and in process of making same kind of joint venture right from Mastering Lab to ultimate finishing with Methaz, Istanbul, Turkey.
"The projects when implemented will be a super success", says Bevivino Antonio, CEO, Net Society. He adds "Although, there are a few manufacturers in Italy, but with HOML's economical project we expect to give our competitor a run for their money. The holograms manufactured by HOML's machineries are equal in quality with much lower price than those available in European countries currently".
Ashim Roy, MD, HOML say "We are very excited about these two ventures as both of them are totally different challenges for us. Although the Italian market is very much aware of the technology, competing with European technology in their own country is going to be our strongest challenge. Turkey will be a totally different experience and it will be an uphill task to introduce this absolute new idea to the market leaders. We have plans of taking up such uphill jobs of introducing holograms into the virgin markets of Brazil, Peru & South Africa very soon."
2. HOML develops Paper Hologram
With the Ban on Polyesters spreading day by day in almost all European countries, HOML faced tough times marketing projects, which manufactured Polyester based Holograms.

The R & D team of HOML worked day and night to solve this problem and the solution arrived in the form of Paper Hologram, the first of its kind in India.

This has brought a relief to the minds of HOML's European buyers as they can avoid the ban on their products courtsey HOML's Paper Hologram.