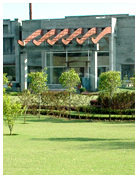 Unflinching devotion to quality has molded us into what we are today. A name to be reckoned within India and abroad.

Since its inception as L R Holographic & Origination in 1992 to transforming into a public limited company in 2006, HOML has seen and experienced all the factors of life. Good times as well as bad times have been a part of our life in our venture towards achieving our goal of becoming the BEST in the world of Holography. Over the period of time our sustenance has clearly demonstrated our ability to constantly provide value in terms of products and services.
HOML, a technology based manufacturer, have been working in the field of manufacturing & exporting of high quality Hologram Making Machinery from the time when this field was ruled by the giants of America & Europe. HOML was the first manufacturer cum Exporter of Hologram Project from the Asian sub-continent and the first to be licensed in Asia by International Hologram Manufacturers Association (IHMA).
Clients all over the world has relied on the expertise & quality of products supplied by HOML. Please visit our Portfolio Section to get a brief idea about our esteemed clientele.
Our Continuous Vision & Mission
We are committed to meet the stated expectations of our customers, through our well-designed and established service delivery system that is sensitive and accommodative to continuous technology up gradation and value analysis. We shall continuously strive to improve the effectiveness of our quality system. Globalization and instant access to information, products and services continue to change the way our customers conduct business. Today's competitive environment leaves no room for error. We must meet our customers' needs and relentlessly look for new ways to exceed their expectations. Quality has become a part of our culture.

To achieve this goal, our impetus will be towards the following:
Optional utilization of men, machine, finance and resources.
Provision of safe working environment.
Planning systems for effective implementation.
Development of reliable vendors for a higher degree of quality assurance.
Adherence to project completion schedules.
Integrity is our key word
We are a company of integrity. Its a company of standards. Our worldwide reputation for honest and reliable business conduct, built by so many people over so many years, is tested and proved in each business transaction we make. Today HOML is far more dynamic, globally directed and customer-driven than ever before. We are playing offence-trying new things to build our business success - our quality products and services, our forthright relations with customers, suppliers and each other, and ultimately, our winning competitive record. But HOML's quest for competitive excellence begins and ends with our commitment to lawful and ethical conduct.

Each employee in the HOML community makes a personal commitment to follow our Code of Conduct. Guiding us in upholding our ethical commitment is a set of HOML policies on key integrity issues. All our employees comply not only with the letter of these polices but also their spirit.

Environment Health & Safety

HOML's environmental, health and safety vision is clear and simple. We must:
Keep our workers safe on the job;
Ensure that we are good neighbors to the communities in which we do business by complying with environmental laws and regulations;
Address historical contamination issues cooperatively and completely; and
Incorporate this vision into our processes and products.
HOML - A specialty Company that eventually combined, prospered and grew into today's leading organization by providing clients of various industries and sizes, with products and services of the highest quality.